Tourism Town Hall Sign Up Now!
You are invited to take part in the Tourism Town Hall on Monday, April 17th at The Prince George Hotel in Halifax.
There will be Provincial Best Practice Panel Sessions (see below), National Updates from Jennifer Taylor, VP Business Development & Member Relations at Tourism Industry Association of Canada (TIAC), Emilie Comeau-Sinclair, Ex. Director, Strategic Initiatives at Destination Canada (Canada Keep Exploring), Tara Saunders, Director of Business Development at Indigenous Tourism Canada Association, and a recorded message from Philip Mondor, Tourism HR Canada President and CEO.
This interactive Town Hall includes networking breaks, an Industry Lunch and a Reception to follow.
Looking to secure accommodation for the event? Visit The Prince George online.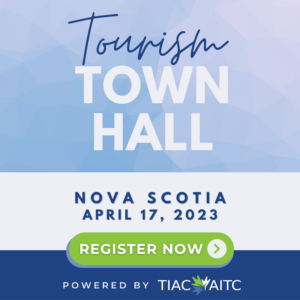 Panel 1- Innovation in Travel Media and Agri-Tourism Partnerships 9:30-10:30 AM
As the Nova Scotia Tourism Industry continues to rebuild post-COVID, the need for enhanced focus around the quality and consistency of our product has never been greater.  Investing in innovative experiences, building partnerships, finding new ways to share our story and staying focused on quality are all crucial elements to our ability to successfully compete for market share.  Join us for this panel discussion to hear practical insights from speakers who will share their insight and experiences of rebuilding tourism with purpose and vision. 
Panelists: Neil MacKenzie, CEO, YASTA; Linda Best, Co-Founder/Director, FarmWorks; Susan Tilley-Russell, Manager, Atlantic Best Practices Mission.  Moderated by Wes Surrett, TIANS Chair
Panel 2 – Developing Culinary Career Pathways for Youth 10:45-11:45 AM
Labour shortages, particularly those in food and beverage services have resulted in unprecedented demand for skilled culinary talent across the tourism industry. Since 2016, the Serve it Up High School culinary exploration program has fostered the next generation of culinary talent by supporting high school students with opportunities to explore careers in the culinary trade. Through a unique program model, combining industry employers together with the education and apprenticeship system, Serve it Up has become an attractive career exploration program for youth and a recognized entry point into the Provincial Cook and Baker Apprenticeship system.  Panelists will share their perspective around the value and relevance of the program and how it can play a role in both the recovery and sustainability of the industry in Nova Scotia.  
Panelists: Chef Mathias Probst, Red Seal Cook, The Carleton; Marcy Graves, GM, Sou'Wester Gift & Restaurant Company Ltd.; and Dale Crawford, Director, Partnership & Innovation, Nova Scotia Apprenticeship Agency; Moderated by Lisa Dahr, TIANS Director, Industry Engagement