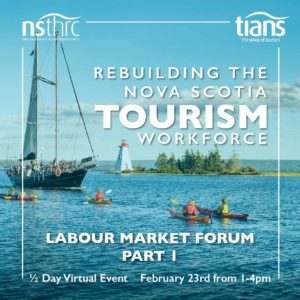 2022 LABOUR MARKET FORUM
MESSAGE FROM EVENT CO-CHAIRS:
On behalf of the Nova Scotia Tourism Human Resource Council, we are pleased to Co-Chair the 2022 virtual Tourism Labour Market Forum – Part I.  We both share a passion for people and bring an urban and rural perspective in developing a Labour Forum that addresses the unique differences for operators and more importantly, the similarities.
When we announced this event, we were planning an in-person forum and while COVID has once again thwarted plans, we fully intend to have additional sessions in the coming months, as we tackle the serious challenges of rebuilding Nova Scotia's tourism workforce.
COVID-19 has exacerbated many structural challenges around work and workers, and we know the issues are not new.  However, we have a significant opportunity to reframe concepts of work in the sector and look for solutions that will increase the value of tourism work, enhance workplace cultures and reimagine the way we define jobs and service our customers.
This will be a journey and we hope you will join us on February 23rd as we begin to talk about best practices you can implement; resources available today and hear from Keynote Speaker, Eddie LeMoine, to get us all thinking about things just a little differently.
Register today and we will see you on ZOOM, on the 23rd.
Sincerely,
Beatrice Stutz and Scott Travis
Nova Scotia Labour Market Forum Co-Chairs