Experiential Tourism is not just a tag line for Celes Davar, but rather a way of looking at the world, and by extension, a way of doing business.
Davar, a Fredericton, NB native, is the owner of Earth Rhythms, a 25-year-old business which focuses on offering visitors a "slow travel" experience: a chance to explore off the beaten path of typical travel-related activities.
A biologist by training, Celes spent 22 years working for Parks Canada – including being a Visitor Experience Manager at Manitoba's Riding Mountain National Park. While there he started to look at the idea of how residents and the park could work more collaboratively, which ultimately led to a jumping ship of sorts at a time of life when most people are settling into careers, not abandoning them.
"In 1996 I took this leap people tell you never to do; to leave a permanent job while you're building a house, while your kids are in school, while your spouse is unemployed. But I did it," he says.
Davar says he felt park visitors were looking for more than just entertainment, they were looking for connection and experiences. He and wife, Susan Davar, an educator and potter, set out to give them just that, and in 1996, Earth Rhythms was born.
"Right out of the gate we started creating experiences within the national park and outside for travellers – to combine food, nature, culture, and storytelling in some unique and innovative ways," he says.
An unusual business model was also born, with a seemingly contradictory approach to what Davar refers to as our "default concepts of tourism." With a focus on offering leisure and corporate experiences between September and March, he then took summers off, able to spend time with his family. Jumping ahead 25 years to today's tourism model, he says Nova Scotia has some interesting opportunities to reframe its long-term tourism approach.
 "May to September is the season for visitors from away. We've defaulted across Canada to this position – that tourism only occurs in those months," he says.
Davar says he sees two seasons for tourism – the months when people come from away and what he refers to as "the season of community," for locals.
During this season of community, not to be confused, he says, with the idea of winter tourism, individuals get a deeper dive into the communities they live in or visit. A walk in the woods is not just a walk, it's an interactive experience, perhaps followed by a hands-on workshop with a local chef, finishing up with stories around a fire. A "dynamic dance," says Davar, between what he can share and what people can experience.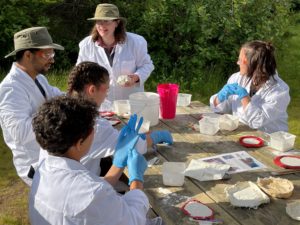 "How to shift from being the sage on the stage to the guide on the side. That's the key, and that's something which takes a complete mind flip," he says. "It's not just about adding "ing" to a noun. That's still just doing, not experiencing."
Davar says he feels people are yearning for more, looking for real connections, and in meeting that need there's a huge business proposition for the province he loves and now permanently calls home.
Moving to Nova Scotia in 2017 – at the prompting of his two children who had relocated east – after 38 years in Manitoba, Davar says, he and Susan found themselves happily ensconced in the Annapolis Valley, in a place he says they've fallen in love with.
Currently living in an energy efficient house built by their architect son, they are now at net zero – an extension of their philosophy around how he feels tourism needs to better reflect the current situation the world finds itself in, where, he says the term "industry" when referring to tourism, legitimizes the commodification of tourism instead of being more about a relationship between host communities and responsible guests.
"I don't think we've gone very far on the curve of how to do tourism well. It has the potential to be a force for good. It has to be about more than just making money," he says.
Looking at tourism as a whole, he feels metrics like receiving a living wage, being conscious to not exploit areas, and helping to contribute to a community's overall well-being are a huge part of doing tourism well; lowering our footprint and not getting caught up in being a "disposable society."
"We're moving on this planet away from a linear economy towards a circular economy; and tourism has to move in that direction," he says.
And like many areas of the world facing challenges around ever-increasing numbers of visitors descending on communities in droves, Nova Scotia he says, has not escaped that reality.
"Even some of the challenges we face at Peggy's Cove – the construction there was a response to the large numbers of people – is a result of how we've set the system up. I don't think we've asked some good questions, like what is the capacity of an area," he says.
Ultimately, the drive behind Earth Rhythms is an improved roadmap for making a tourism a sustainable, community-friendly, and supportive experience. Something which benefits everyone: travellers, business operators, and community members alike. Davar knows it's a difficult pill to swallow for many, given how entrenched the old way of doing tourism is, and the current reality of a global pandemic and climate change's severe weather impacts.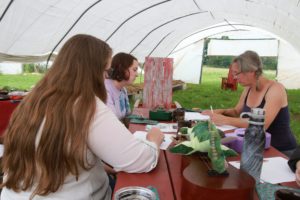 Despite that difficulty, he applauds what's happening locally on the front of experiential tourism, specifically Tourism Nova Scotia's Accelerator Program, which has been working with operators over the last three years to create experiences and cites Trout Point Lodge and Flying Apron's Dining on the Ocean Floor experience as success stories, among others.
And how have the last two years been? One of the lucky few, he says, as a result of his small group, outdoor focus, his company has actually grown by 150 per cent during COVID.
When wrapping up, a question around where he sees himself going forward elicits an interesting response. Davar, who now focuses 70 per cent of his time training and facilitating in communities across the country rather than delivering experiences himself, says he wants "to give it all away." It is, in this instance, referring to the wealth of knowledge he brings to the table whenever he meets with communities across the country.
"I would like to see tourism become a better narrative about our relation to place, and for travellers to become more comfortable with complexity; the complexity of nature, the world, and our place in it as we travel."
For more information about Earth Rhythms, visit them online at www.earthrhythms.ca
Contributed
Tourism Industry Association of Nova Scotia