Growing up in Brookfield, Nova Scotia meant Mark Moore was not exposed to much gnarly wave action. All that has changed.
The owner of Halifax Surf School, on Nova Scotia's Eastern Shore, now sees more than his fair share of lips (curling part of a wave), crests (highest point of a wave), and white water (broken foam of a wave) on any given day.
"I had to travel and learn to surf overseas before I could come back and realize we had very nice surfing conditions right on our doorstep the entire time," Moore says.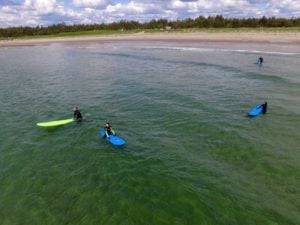 Moore, now 37, has been surfing for the last 15 years. After going the more traditional route of a university degree, he then spent the remainder of his 20's surfing while working his way through 45 countries, teaching kite surfing through the majority of them.
"I spent the better part of 11-12 months a year for a decade teaching kite surfing as a way to finance my travel. I would do 3-4-month contracts, save up enough for the next plane ticket, and move along," he says.
After ten years spent surfing and travelling, Moore says his thoughts increasingly turned to home, and a desire to settle down. In 2014 he pulled up to Martinique Beach, ready to begin his first iteration of the Halifax Surf School.
"We started very small, with just a van, eight boards, and eight wet suits," he says.
Six years later, in 2020, after encountering what he refers to as a "wall of bureaucracy and red tape around permits," Moore made the move to purchase land just before the beach – building a new shop "strategically located to do rentals from."
"As the industry has grown, there have been some ongoing issues with permitting and whatnot. It's been an absolute nightmare," he says.
Halifax Surf School, open from May through November, is growing despite bureaucratic hurdles; with a second location at Clam Harbour and eight staff. They do rentals, lessons, and some basic retail. Moore says they do four lesson slots a day in the summer, and serve mostly new surfers, from out of province, looking for that one-off surfing experience.
"We commonly get people as young as 5 years old, but also teach people into their 60's, and get a wide range of disciplines and backgrounds, though primarily beginners," he says.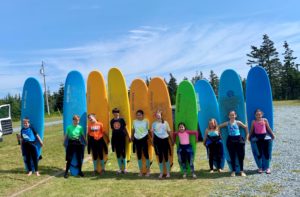 And in terms of their approach with their mostly inexperienced clientele, Moore says it's all about creating a positive experience.
"We really try to create a culture of encouragement, of meeting people where they're at out in the surf based on their previous experience; creating positive, fun, and safe memories for families. And we really work hard to pass that along to our staff," he says.
A smart, savvy, determined entrepreneur, Moore represents our province's young new tourism professionals, and although COVID has been disruptive, he appreciates how much tougher things could have been.
"The surfing industry is growing, so that's a positive. It's been challenging with COVID but fortunately our windows of operation are the summer, so it's actually been, compared to other parts of the sector, not so hard on us," he says.
A life most people would see as pretty ideal, is, according to Moore, exactly that, citing a flexibility it allows him; time with his toddler son and wife, and the joy seeing how clients react to a first-time surfing adventure as the best parts of his job.
"Seeing the look on people's faces as they catch the first wave of their life, and that feeling. That's really the most satisfying part of the business for sure. Making people happy," Moore says.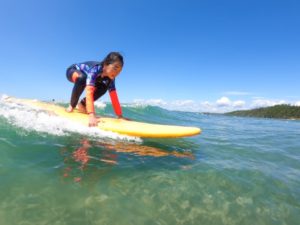 And the future looks bright for this creative eco-tourism operator – despite his frustrations with the bureaucratic obstacles he's faced.
"We have a lot of fantastic projects we're ready to pull the trigger on as soon as we know we have a platform we can operate on – in terms of the permit process," he says.
And his final word on surfing and a reason why it's so popular with first-timers of all ages while becoming a life-long passion and challenge for many others?
In a nutshell…"Easy to learn, difficult to master."
CONTRIBUTED
TOURISM INDUSTRY ASSOCIATION OF NOVA SCOTIA